New Limited Print Offer Makes a Perfect Holiday Gift!


I've been looking forward every month to each limited print offer that we've been featuring, since it's been an opportunity for me to really see what you all respond to. We've been featuring a variety of classic and newer paintings of mine in a series of moderately sized and priced archival signed reproductions that are offered for a few days only and then taken down from the catalog forever, and the response has been very encouraging.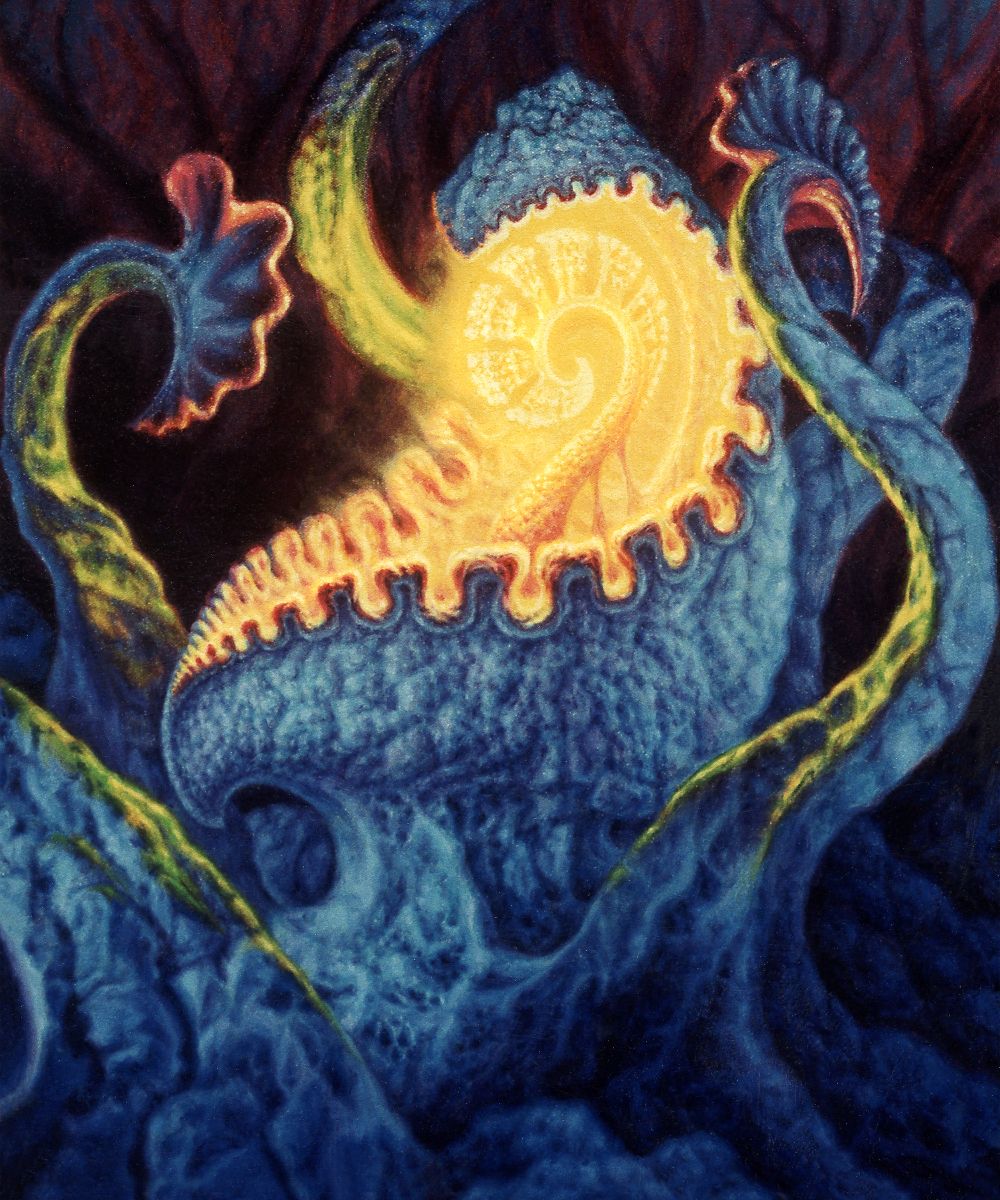 This week I'm putting up one of my classic images, PodCoil II, from 1999. This was one of my early experiments with building clay models to get my lighting and texture more realistic, and still stands out as one of my more iconic images from that period. The print is 11x14" plus a 1" colored border for mounting purposes, and has been carefully color matched for maximum impact. Signed, archival for 125 years, $50. Available only until December 7, then it's being taken out of the catalog forever.

My partner Michele's latest print, Star Of Bethlehem, is still available and makes a stunning gift for anyone with a modern sense of aesthetic. Due to the unexpected response, she's extended her special holiday pricing until next Wednesday as well; it's 6 images that work as a single reproduction, 20x24", signed on archival canvas, $75. You can read about its special symbolism on her Instagram profile, or check it out at the Hyperspace print gallery where it's listed next to my new limited print.

We are very excited about the high quality of prints we are getting now that we are producing them in-house, and these two new prints are great examples of the kind of gifts (including gifts to yourself!) that quality fine art reproductions can make. Drop by the Hyperspace print gallery to see what else we have available.

Today We Start Rolling Out Some Limited Holiday Deals!

As we close out November and the dust settles from all that Black Friday chaos, we wanted to offer a few great gift options for the artist or art fan in your life which you can shop for from the safety of your living room. Many of you are likely already familiar with a lot of the books, DVDs, art prints and other art related items that we carry at tattooeducation.com and hyperspacestudios.com, and we encourage you to take a quick browse through the online catalogs at both websites to see what we have available. Today, though, we are offering some single day promotions that you may want to take advantage of.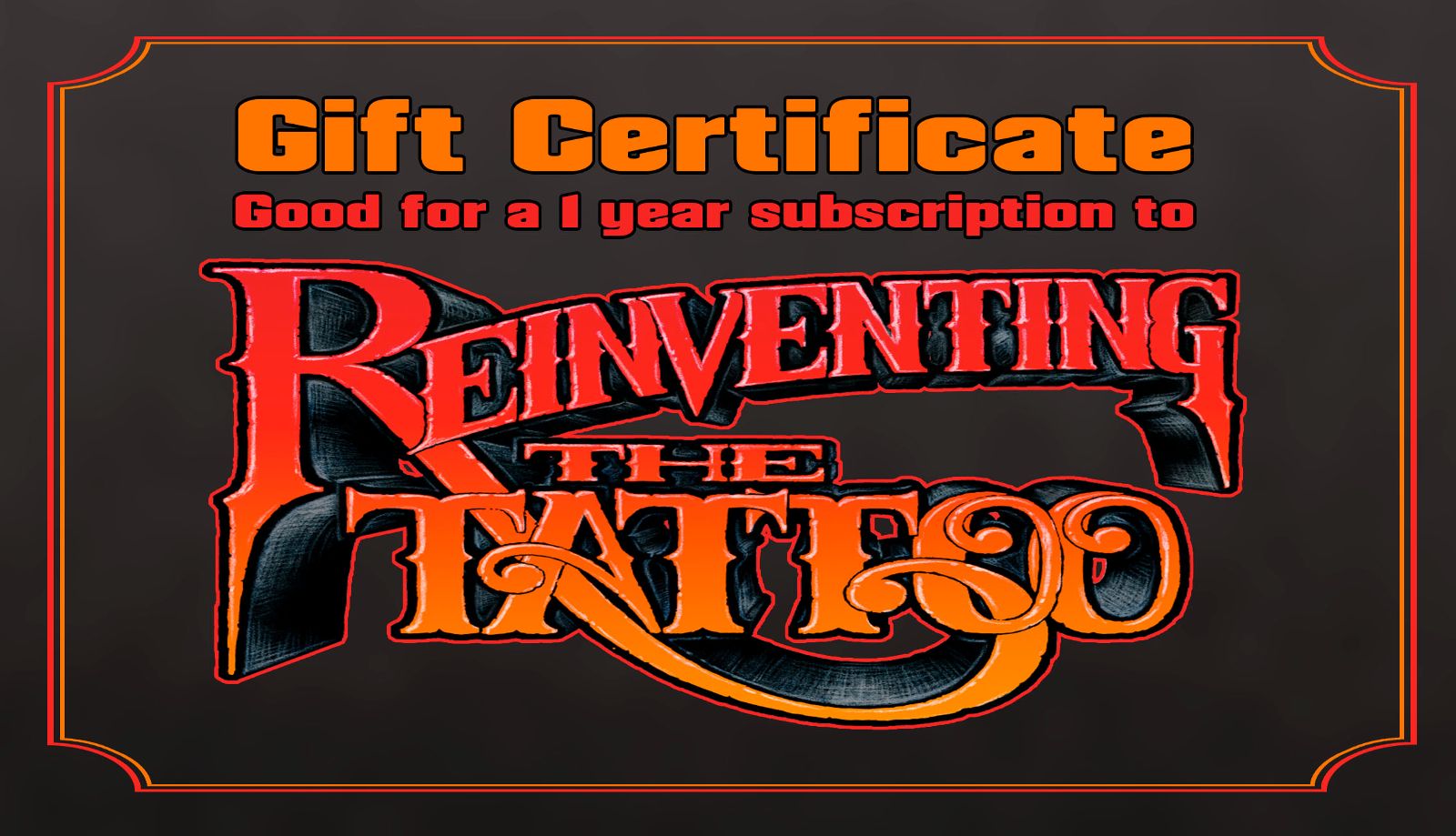 For starters, we've had many of you ask what is the best way to gift someone with a subscription to Reinventing The Tattoo, my comprehensive electronic educational package for tattoo artists. Reinventing is far more than just an electronic edition of a book, but also contains a great deal of video and other multimedia material and is constantly growing- later this month, for example, I'll be adding three new Photoshop video tutorials that relate directly to things that tattoo artists might need to do with their images. Reinventing is the most detailed educational package available in the tattoo industry today, and has been read by thousands of artists worldwide across over 20 years; it can now be offered to a friend or coworker through a gift certificate. Order before December 16 and we'll mail the recipient a shiny card with instructions for logging in… and better yet, order before midnight tomorrow night (11/29) and get $50 off!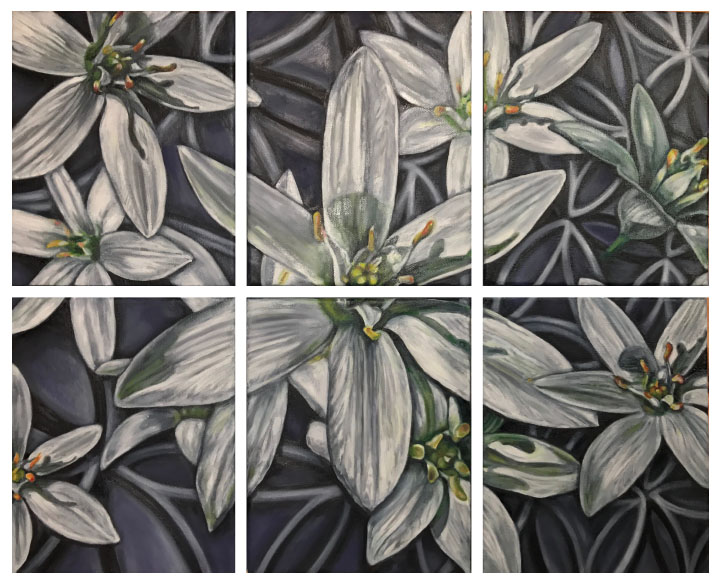 In addition, Michele wanted to celebrate the holiday season by offering a special deal on prints of her latest painting. Star Of Bethlehem is actually six small pieces that were painted as one, and then separated into six complimentary compositions. All of them are grouped onto a single print on archival artist's canvas, 20x24". This stunning reproduction is being added permanently to the Hyperspace print catalog, but for today's special she has reduced the price to $75. Her carefully balanced subtle color schemes go well with just about any decor, making her prints ideal gifts.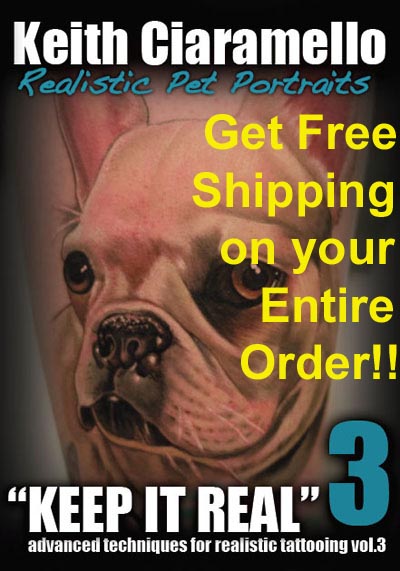 Last but not least, don't forget that we have a featured item this week, Keith Ciaramello's 'Keep It Real 3' DVD. He offers an insightful glimpse into pet portraiture, which has recently become a popular- and sometimes surprisingly striking- tattoo motif. In Keith's approach you can see how his foundation in painting and other mediums translates into his painterly approach to handling subtle realistic color on skin. Anyone who orders our Featured Item gets free shipping on their whole order anywhere inside the US, so if you are planning on picking up some books or other heavy items, keep this in mind!
The Bloom Project Promo
New 2016 Bloom Project Video, plus November's Limited Print


This past weekend, Michele Wortman celebrated her 18th year of tattooing by putting together a Bloom Project video portfolio showing some of her most epic work. Michele has been a quiet but persistent influence on tattooing for much of this time, pushing for a softer, more feminine approach with a minimal use of black outlines and an emphasis on the overall look of each person's collection, with all work being balanced, even on collectors who are not aiming for a full bodysuit. She has referred to these unified collections as "bodysets", and this new video showcases this look beautifully. Drop by our YouTube channel, TattooTelevision, to take a look, or just click the screen shot in this newsletter. You can see more of her colorful work at www.MicheleWortman.com.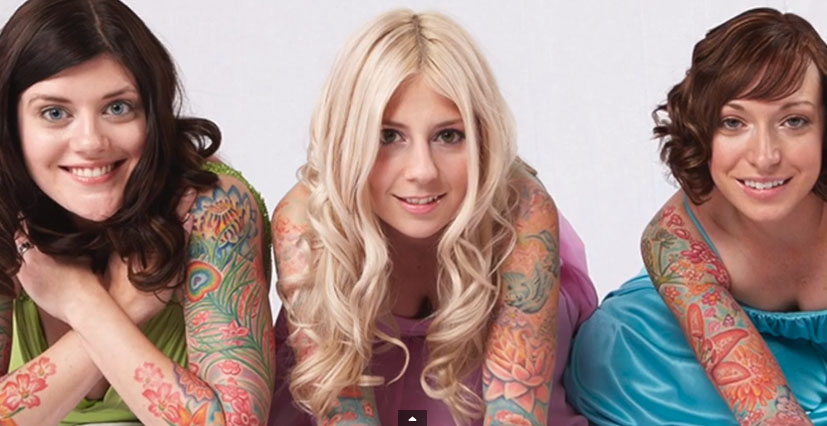 I also wanted to mention the November limited print. This one is called Construction II, and is part of the collection of original paintings that I currently have on display at the Off The Map Gallery in Easthampton, Massachusetts. As with all the limited prints, this one is smallish and priced affordable- it's 10x15" plus a 1" colored border for mounting purposes. Prints are archival for 125 years and signed/dated. We are making the prints in-house so I have final say over the color matching. This print will be offered until midnight EST this coming Sunday, November 6. Drop by the Prints gallery at Hyperspace Studios to see the full range of creative reproductions that we have available.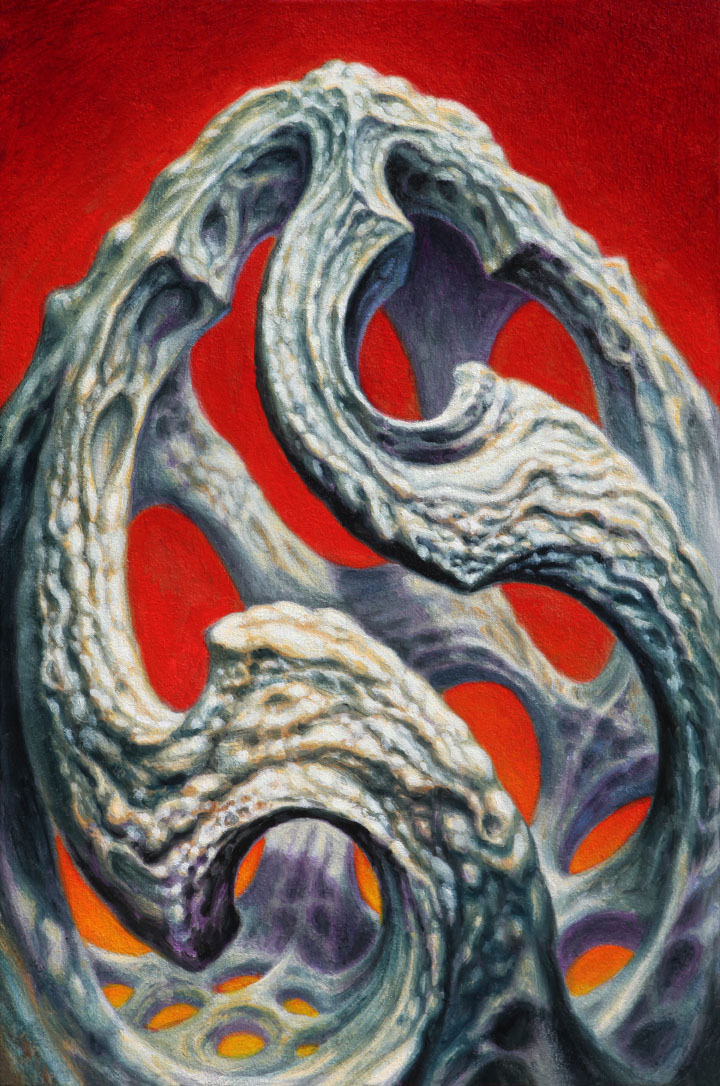 New Fine Art Prints Available Now!

For many years Michele and I have carried fine art giclee prints of some of our favorite paintings. This year, though, we finally decided to take the plunge and purchase our own large format fine art printer. You can look forward to seeing many new high quality archival prints on canvas, watercolor and gloss paper over coming months, but we wanted to start you out with a couple new editions.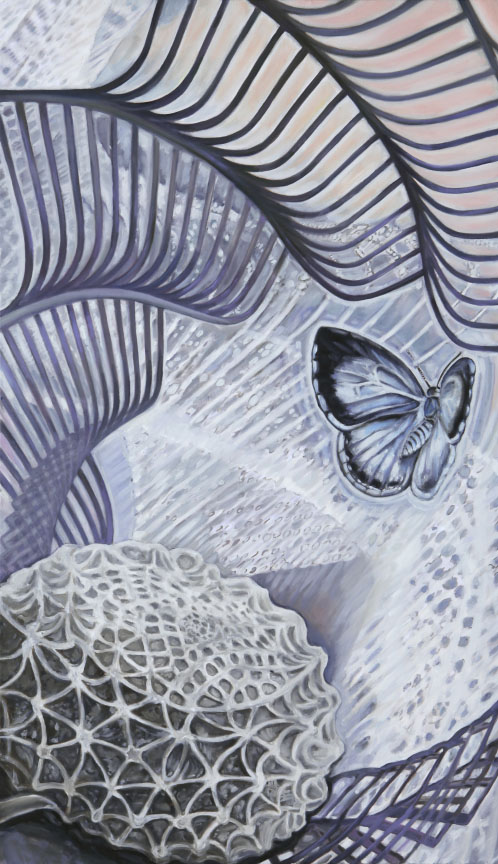 The new permanent addition to our catalog is Michele Wortman's recent painting Potential, which celebrates birth, renewal, and the vast palette of experience that life has to offer. We are carrying it in two sizes, one of them original size and the other a slightly smaller version which may work better in some interior settings. Prints are signed by the artist and, according to the printer manufacturer, archival for 125 years! This is one of Michele's favorite new pieces and she is excited to be able to offer it as a fine art print.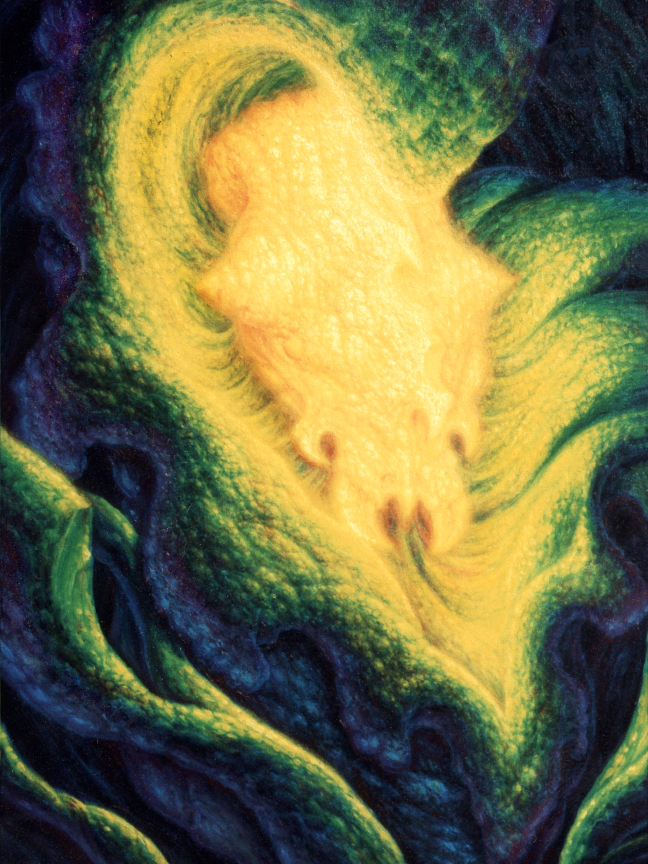 I'm trying something a little different this month. I've got many, many images that I'd like to present as prints, but I don't necessarily want a catalog a mile long. So this month I'm offering a limited edition print of a painting that I did in 1996, but still feels relevant today in terms of how it fits into my current body of work. Mind Tree IV was one of my most successful lighting exercises at that time, when I was trying to figure out realistic lighting for both painting and tattooing purposes, and can be found in my art book Organica. I'm carrying it as an affordable, moderate sized print, but it will only be available until midnight on Wednesday, September 7, at which time it will be removed from the catalog. All prints are signed and dated.
Thanks, and we'll keep you posted as we roll out more new ones!
The Bloom Project!!

This Halloween I celebrate my 17th year as a tattooist, and can think of nothing better to commemorate these years then seeing my friend and client Mindy on the cover of Tattoo Magazine! She has been getting work from me for the entire span of my career, and is one of the first ladies to get a floral form bodyset which I am known for. Her collection helped pave the way for others to follow by inspiring such a beautiful look on such a lovely lady. Mindy is part of the Bloom Project, which started with a desire from me to see a more unified and flowing female esthetic in tattooing. In addition to the use of soft, feminine imagery in my work, I've always emphasized laying the tattooing out on the body in a way that is balanced like a nice garment- rather than thinking in terms of bodysuits, I've come to think of the collections I put on my clients as "bodysets". Many of these sets began with shoulder cap coverage gradually becoming full sleeves and beyond.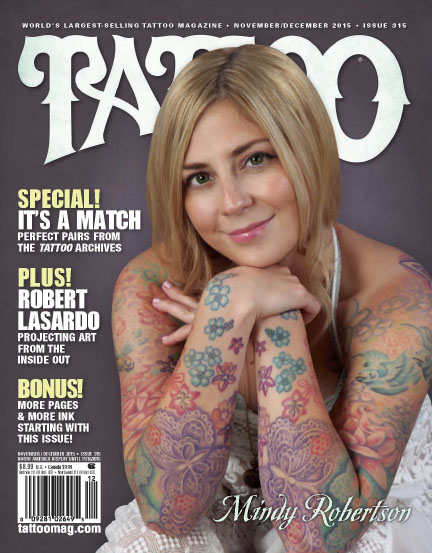 I have been documenting this process, and the Bloom Project is a direct result of passion, dedication and a desire to push the evolution of this project further. This has resulted in a core clientele who are all representives of the Bloom Project. I chose this title as many of my clients request floral motifs from me, and I've found that the process of unfolding through layers of ink, adding on over time, and the personal transformation that occurs, can be likened to the process of a flower bloom opening. We are all in a state of becoming and growing from our experiences. I have a great appreciation for the beauty and wonder of Nature which I believe we are all a part of. From my clients to my artistry, this is the energy that we synchonise with and resonate from.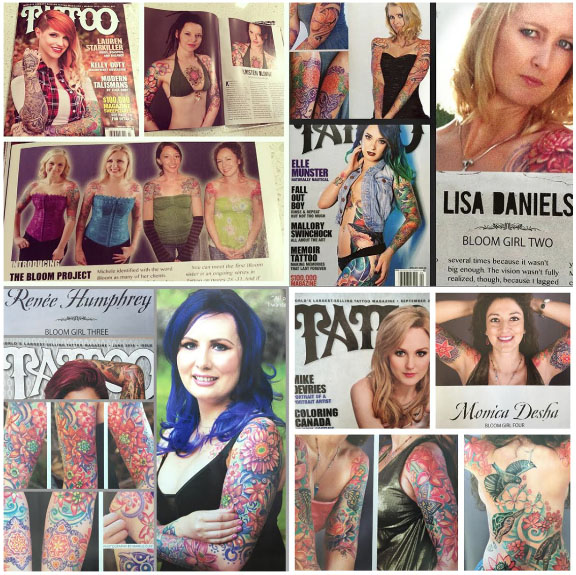 Check out some updates in the Bodyset gallery, and check back soon as I continue to update MicheleWortman.com. I have added some more Video portraits featuring the ladies of the Bloom Project. There is also a copy of Mindy's current spread in Tattoo Magazine posted in my Press gallery. Drop by the site and take a look. Give a follow on the Facebook Bloom page and at Michele Wortman, where I post updates on the Project and art related news as well.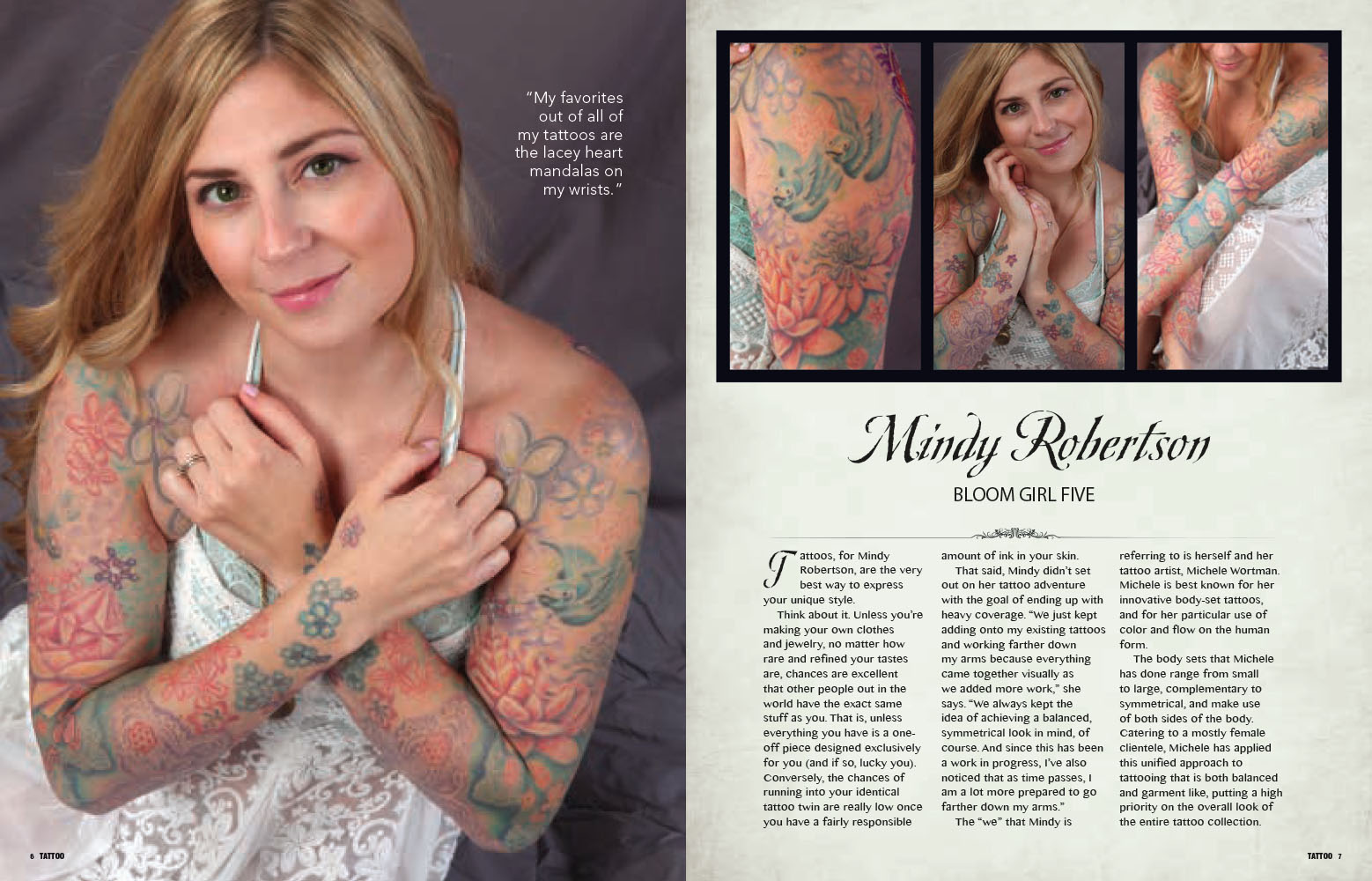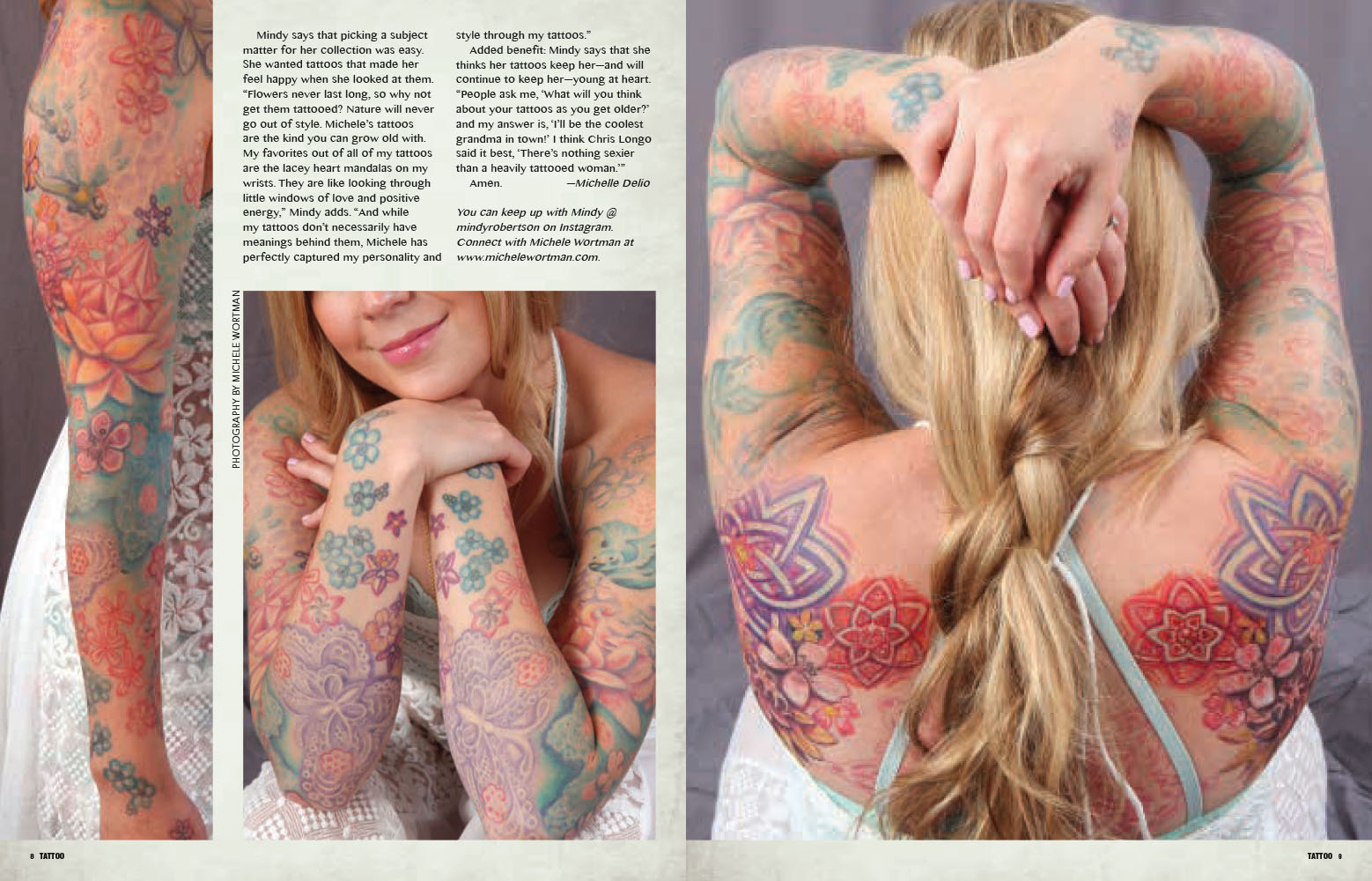 Michele Wortman's Bloom Project Featured in Tattoo Magazine, and in a New Video!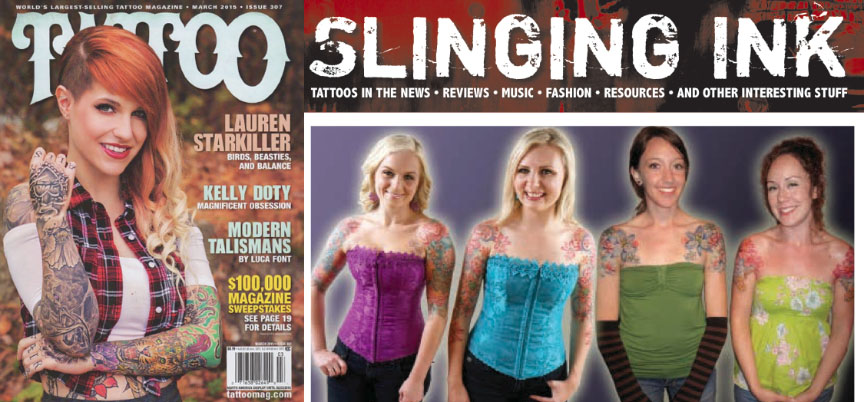 Michele Wortman is known in tattooing for her innovative body sets. She has been designing a signature look for her mainly female clientele throughout her tattoo career. Starting with a desire to see a more unified and flowing female esthetic, 15 years ago, Michele embarked on an artistic journey to redefine more options for women wanting a lighter softer, balanced look within their tattoo collection. Many of these sets began with shoulder cap coverage, and gradually Michele's clients found themselves inking their way down to full sleeves and beyond. She began documenting this process, and the Bloom project was born.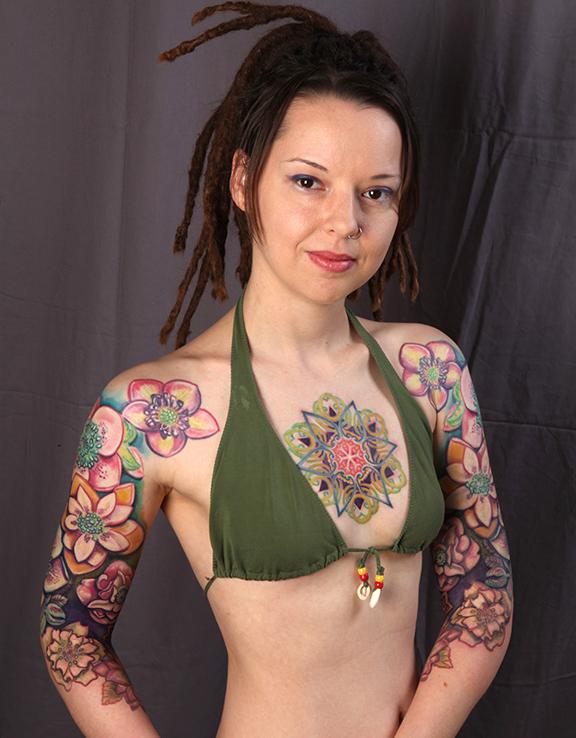 Michele identified with the word Bloom as many of her clients requested floral motifs from her, and she likened this process of unfolding through layers of ink, adding on over time and personal transformation to the similarities of a bloom opening to flower.

Michele has inked several body sets and is currently working on an art book showcasing the lovely ladies she has been honored to tattoo and their process of collecting work through the years. The book will feature in-depth photos of her work as well as many of her clients who have come to be known as The Bloom Sisters. She is currently taking on new clients with this project in mind as well as trying to finish up work in progress in time for the 2020 publication.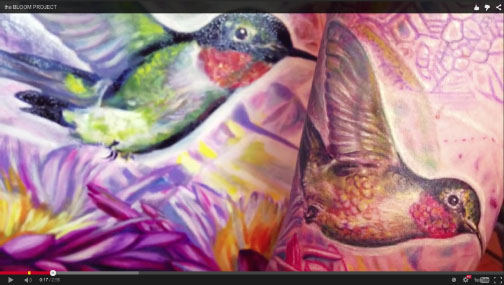 You'll be able to meet The Bloom Sisters in an ongoing series of articles in Tattoo Magazine, starting with a feature on Kristen Blinne in issue #304, which is on newsstands now. Michele has also produced a short video about the Bloom Project, offering a sneak preview of what you can expect when the book is released.

Available In Time For Christmas: Michele's New Hand-Retouched Metal Prints
Happy Holidays,
As we close 2014 with a celebration of the season and welcome the New Year I thought it would be a good time to offer some of my favorite recent paintings to add to your art collection as unique prints on sheet aluminum. Several of these I have taken further by repainting the ferns, flowers and other details directly into the print making each one an original mixed media piece. You can see the detail examples below. The overall look is modern, shimmery and ready to hang. The surface, both reflective and painted, adds to the dimensional shift of luminosity. These would look great as a grouping or as individual pieces.
I also have a collectors' card set for only 5 bucks featuring a nice sampling my paintings, a perfect stocking stuffer.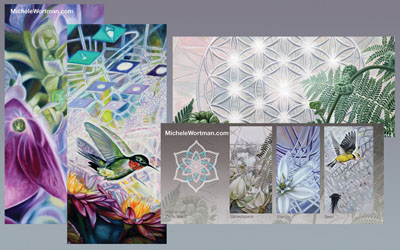 Shipping in time for Christmas is guaranteed for all orders received by December 16. Thanks, and have a great season and happy New Year!
New Hyperspace Studios Video And Michele Wortman Card Set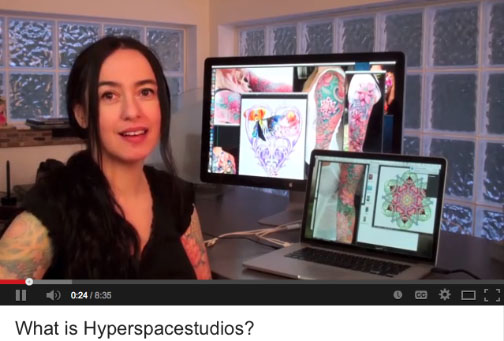 Have you seen the video that Guy and I put together recently? In it we discuss our art, what we do, what motivates us and the things we hope to accomplish. This includes a little about our artistic styles, including Guy's biomech, and how I arrived at the unified feminine style that I'm known for. You can see it at our YouTube channel, TattooTelevision.
I've just put together a
new postcard set
featuring some of my favorite recent paintings. The set by itself includes two 2-sided oversized cards, and are a great low-priced collector's item. I'm also offering them along with my two most recent Sunchannel CDs in a
discounted package
.
Sunchannel
is my electronic music project.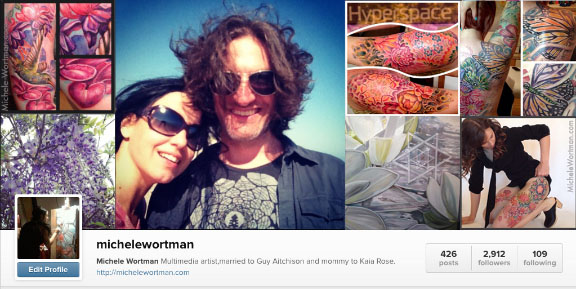 I also wanted to mention that I'm booking late Summer and Fall appointments now. If you're curious about collecting work you can come to the
Appointments link
at my website for more information, or to book a slot. You can see my work here at
www.MicheleWortman.com
, and you can follow me on
Instagram
to see shots of in-progress work and other fun stuff.
Thanks, and I'll be in touch soon!
Woodland Window Filigree and Floral Bodyset
Greetings and welcome to winter. I have been busy inking body sets over the past few months on many of my regular clients as they continue to refine and expand their collection.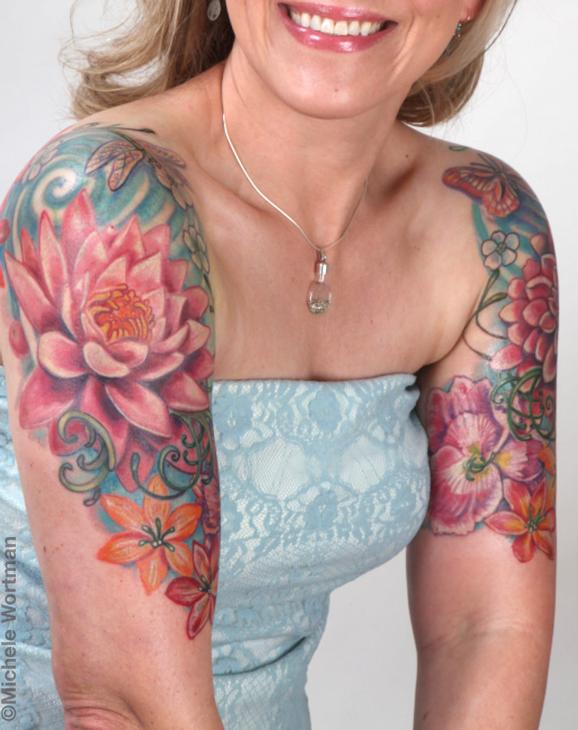 Here is a recent video featuring my client Sabrina and her Woodland Window Filigree and Floral Bodyset.
Sabrina describes her process of getting lasered to collecting a cohesive overall look and talks about the new direction many women are taking as they explore a decorative aesthetic while maintaining a professional image in the workplace.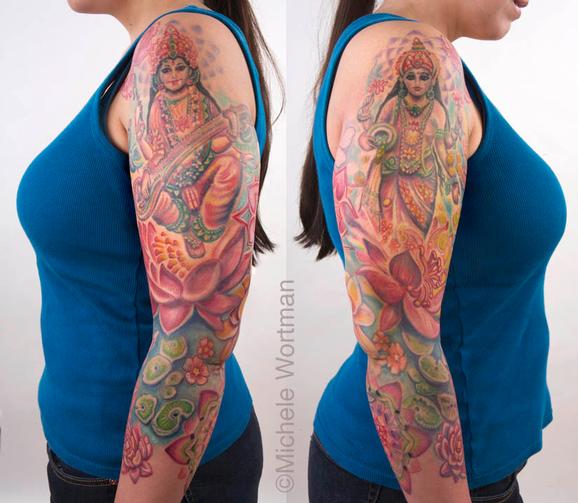 Also check out this short video portrait featuring the Goddess body set on Charity that I just finished working on. Listen as she shares her insights on the feminine and finding your inner Goddess.
If you would like to join our mailing list to find out more about our Hypercasts and other Hyperspace related updates Click here.
Flight and Flowers Bodyset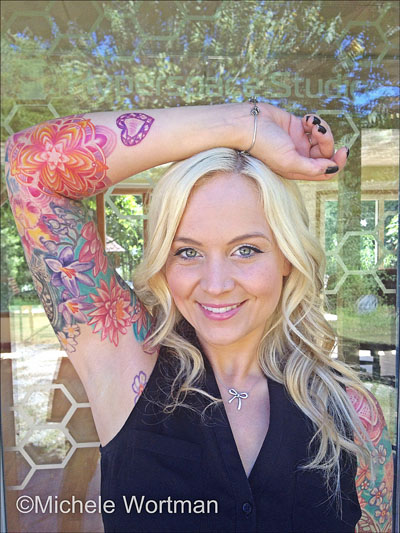 I just worked on Jenns Flight and Flowers bodyset. We inked some luminous cosmic mandalas, started filling in the elbow area and added purple heart gems to the inner arm.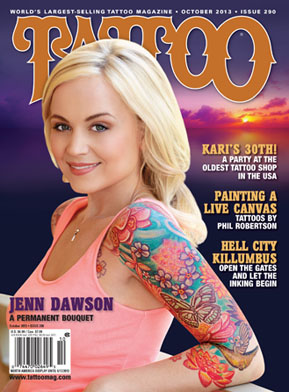 This month Jenn is featured on the cover of Tattoo Magazine issue 290. Be sure to check it out while it is still on the newsstands.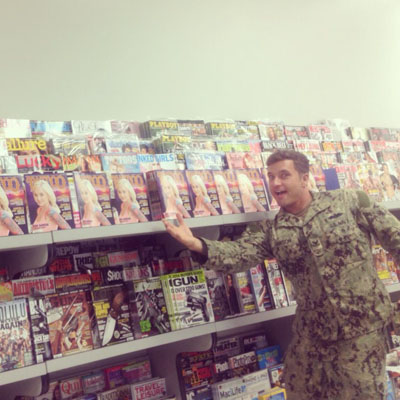 I also interviewed Jen about her tattoos and philosophy and put together a short video which talks about the process of collecting work from me and describes the intention and content of the art from a collectors perspective.
Innerstate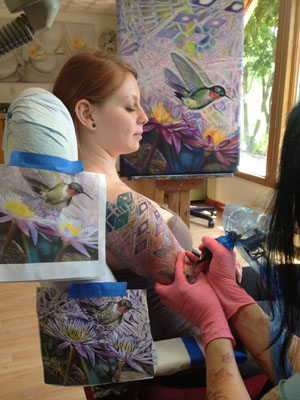 Just finished an exciting two day session on Alexis. She asked me for a half sleeve based on a painting I did in 2009 called Innerstate, titled after a live performance that we hosted where tattooists were invited to explore the inner realms of their unique vision to better channel a personal style by exploring a more visionary approach to their artwork. Be sure to check out Innerstate an amazing book and documentary produced by artist Guy Aitchison.
It felt natural to reference my painting and as a result subtle nuance with color and texture made its way into the tattoo that might not have occurred in the same manner otherwise. I like the way all the shapes landed on her arm and how it moves with her figure. I really enjoy the symbolism and cerebral qualities of this piece and am so honored to have a chance to tattoo this on Alexis.
We are off to a good start, here are some pics from her recent session at Hyperspacestudios.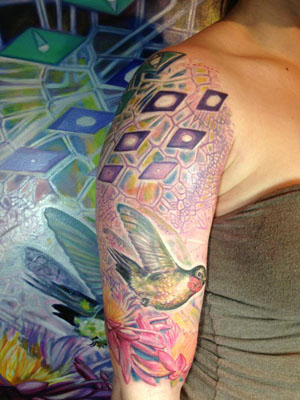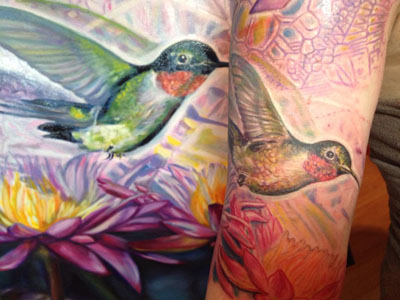 Cosmic Mandala set in progress
Greetings from the land of Hyperspacestudios where I just finished a marathon tattoo session inking a cosmic mandala bodyset on my client Lesyle. I put together this on the fly video from phone clips to try and capture a piece of this magical transformation to share with you. Though this is only the first pass it is off to a great start and I look forwards to the next session. The music in the video is by H.U.V.A Network, Orientations pt 2. This track was playing in the background while doing this piece and so appropriately reflected the feeling and energy of everything in that moment. Hope you enjoy the video and to post some more work sessions soon.

New website!
Greetings, and welcome to MicheleWortman.com. This is the first blog at my new site. Here you can take a look at paintings, bodyset and singular tattoos for women, and photography of subjects that inspire me, along with a collection of figurative sketches that I have done over the years. You can also listen to my music project Sunchannel and check out the music videos.
Recently I was featured in Inked Magazine discussing the distinct approach to tattooing that my work is known for, and colorful partnership with fellow artist Guy Aitchison, the other half of Hyperspace Studios. Here's a brief excerpt from the article:
INKED: Would you say your style is more feminine?
MICHELE: It's interesting you should say that because, originally, I had wanted a half sleeve of flowers and this girl looked at me, rolled her eyes and said, "You would get that. How typical of you." That bothered me, so I decided I would rebel against my "feminine nature" and get architecture, which is very masculine in my opinion, very man-made. The fact that I rebelled against my feminine nature in the beginning only to come back to it later was an interesting lesson for me...
(Read more)
I am currently taking new appointments for spring and summer, as well as painting commissions.
Stay tuned, join my mailing list, and check back regularly to see updates to the site and my latest blog.
Thanks and happy winter,
Michele Wortman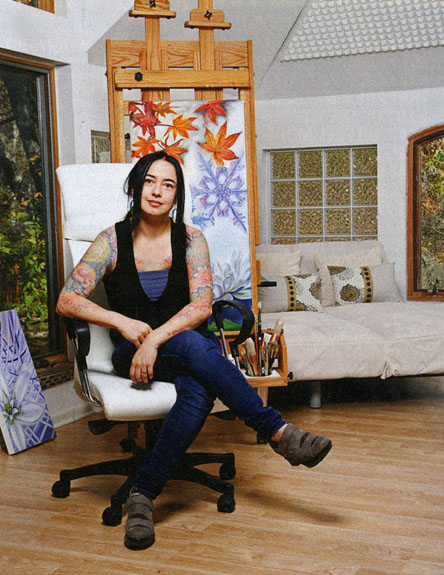 Photo by David Torrence